THE EUROPEAN RESPONSE MIGHT BE THE SYNNET
DEAR FELLOW READERS IRENE,PEACE,SALAM,
IT SEEMS THAT THE UPCOMING EVENTS WILL BE VERY CRUCIAL FOR OUR PAN-EUROPEAN AND MEDITERRANEAN ZONE,FOR WHICH WE ARE WORKING SEVERAL YEARS.
MEANWHILE AND UP TO THAT TIME ,RESEARCH CONTINUES:
2/5/12
RESEARCH IN FUTURE CLOUD COMPUTING,
AT CHARLMAGNE BUILDING ,BRU,BE.
THE BEST MULTI-CO WERE THERE
IBM,MICROSOFT,ATOS,ALCATEL-LUCENT ETC TO BE NAMED SOME OF THEM.
ALSO IMPORTANT SCIENTIFIC AND COMMERCIAL STAKEHOLDERS PARTICIPATED TO THE EVENT.
TO OUR SURPRISE IT WAS HEARD FOR THE FIRST TIME AND WE MET FOR A WHILE ,WITH THE REPRESENTATIVE OF THE SOLE AMBITIOUS EUROPEAN SEMICONDUCTOR INDUSTRY.
3/5/12
THE ECONOMIC AND SOCIETAL IMPACT FUTURE INTERNET TECHNOLOGIES,SERVICES AND APPLICATION,
AT DG ICT PREMISES,BRU,BE.
A FINAL WORKSHOP FOR THE CONDUCTION OF A STUDY BY
IDC EMEA (EUROPEAN GOVERNMENT CONSULTING) ,WIK-CONSULT,RAND EUROPE,
AND NOKIA.
HERE IT WAS DECLARED ONCE AGAIN (see article on 22/3/12) :

THE NEED FOR THE EUROPEAN COMMISSION TO FINANCE AND ASSIST THE RESEARCH ,STUDY AND IMPLEMENTATION IN ORDER
WE THE EUROPEANS TO HAVE OUR OWN INTERNET ,WHICH IT MIGHT BE NAMED AS SYNNET.
THE INTERNET IT IS CONTROLLED BY THE U.S.A MILITARY ,THROUGH SEVERAL STAKEHOLDERS AND N.P.O'S .THIS CREATES TO EUROPEAN CITIZENS A SECURITY AND PRIVACY LACK.
WHY DID EUROPE INVEST AT THE SATELLITE POSITIONING TECHNOLOGY,
THE GALILEO
?
THERE WERE ALREADY TWO OF THEM WHICH WERE DEVELOPED BY THE DEFENSE SECTOR FROM U.S.A.(GPS) AND FORMER U.S.S.R. (GLONASS)
THE PROJECT GALILEO WHICH TODAY IS THE BEST ONE ,WAS DEVELOPED BY CIVILIANS FROM THE SCIENTIFIC ,INDUSTRY AND SOCIETAL SECTORS.
IN THE SAME WAY WE COULD DEVELOP OUR OWN HIGH TECH PROTOCOLS ,SINCE THE INTERNET PROTOCOL AND ARCHITECTURE TECHNOLOGIES (TCP/IP ETC) ARE BASED ON 50' AND 60's SCIENTIFIC RESEARCH.
SUCH AN ACTION ,UNDER THE UNIVERSITIES RESEARCH CAPABILITIES AND RESPONSIBILITY ,COMBINED WITH THE COOPERATION OF OTHER INTERESTED COMMUNITIES,ON THE ONE HAND IT COULD CREATE NEW RESEARCH AND INDUSTRY POSITIONS BUT ON THE OTHER HAND ALSO IT WILL CREATE FOR SURE A COMMERCIAL ,TECHNOLOGICAL AND OTHER COMPETITION ,BETWEEN THE TWO DIFFERENT SYSTEMS (INTERNET AND SYNNET),FOR THE CITIZENS BENEFIT.
THE TWO SYSTEMS ACCORDING TO CLIENT'S REQUEST COULD BE BRIDGED AND EXCHANGE DATA INFORMATION.
TODAY EUROPEAN INDUSTRY DOESN'T EXIST AND IF IT DOES IT ISN'T ANYMORE AT THE HANDS OF OURS.
LET ME ALSO POINT SOME SPECIFIC SENTENCES FROM AN ARTICLE WHICH WAS PUBLISHED TODAY BY AN AMERICAN MAGAZINE.
Frankovsky wrote that some new hardware designs included Facebook's "vanity-free" storage server and motherboard designs contributed by chip makers AMD and Intel. AMD's motherboard is about 16-inches by 16.5-inches (40.6 centimeters by 41.9 centimeters), and is for high-performance computing and general purpose installations such as cloud deployments. On the software side, VMware will certify its vSphere virtualization platform to run on hardware based on the OpenRack specification.
If the Facebook design becomes a de-facto industry standard for cloud and Web 2.0 data centers, it could make the deployment and management of systems easier over time, said Charles King, principal analyst at Pund-IT.
"The Facebook standard seems to be a data-center centric effort where you are looking to establish a system-design standard that can populate a data center with hundreds of thousands of servers," King said.
(
MORE ...
)
THANKS ALL FOR YOUR ATTENTION
---
BELOW ARE PRESENTED SOME RESEARCH ARTICLES WHICH MAYBE THEY ARE INDICATING SOME PATHS FOR THE EUROPEAN RESEARCH ICT INDUSTRY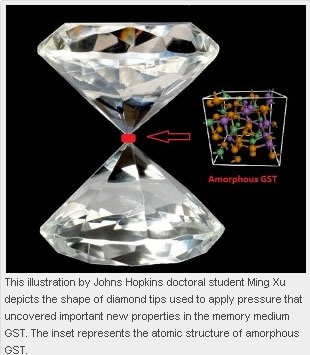 Researchers Use Diamonds to Boost Computer Memory
Johns Hopkins University engineers are using diamonds to change the properties of an alloy used in
phase-change memory
, a change that could lead to the development higher capacity storage systems that retain data more quickly and last longer than current media.
The process, explained this month in the online edition of
Proceedings of the National Academy of Sciences
(PNAS), focused on changes to the inexpensive GST phase-change memory alloy that's composed of germanium, antimony and tellurium.
"This phase-change memory is more stable than the material used in current flash drives. It works 100 times faster and is rewritable about 100,000 times," said the study's lead author, Ming Xu, a doctoral student at the Whiting School of Engineering at Johns Hopkins University.
"Within about five years, it could also be used to replace hard drives in computers and give them more memory," he suggested.
GST has been in use for two decades and today is widely used in rewritable optical media, including CD-RW and DVD-RW discs.
IBM and others are
already developing
solid-state chip technology using phase-change memory, which IBM says can sustain up to 5 million write cycles. High-end NAND flash memory systems used today can sustain only about 100,000 write cycles.
By using diamond-tipped tools to apply pressure to the GST, the researchers found they could change the properties of the alloy from an amorphous to a crystalline state and thus reduce the electrical resistivity by about four orders of magnitude. By slowing down the change from an amorphous state to a crystalline state, the scientists were also able to produce many varying states allowing more data to be stored on the alloy.
GST is called a phase-change material because, when exposed to heat, an area of the alloy can change from an amorphous state, in which the atoms lack an ordered arrangement, to a crystalline state, in which the atoms are neatly lined up in a long-range order.
An illustration of how the diamond-tipped tools were used to compress GST
The two states are then used to represent the computer digital language of ones and zeros.
In its amorphous state, GST is more resistant to electric current. In its crystalline state, it is less resistant
The two phases of GST, amorphous and crystalline, also reflect light differently, allowing the surface of a DVD to be read by tiny laser.
While GST has been used for some time, the precise mechanics of its ability to switch from one state to another have remained something of a mystery because it happens in nanoseconds once the material is heated.
To solve this mystery, Xu and his research team used the pressure from diamond tools to cause the change to occur more slowly.
The team used a method known as X-ray diffraction, along with a computer simulation, to document what was happening to the material at the atomic level. By recording the changes in "slow motion," the researchers found that they could actually tune the electrical resistivity of the material during the time between its change from amorphous to crystalline form.
"Instead of going from black to white, it's like finding shades or a shade of gray in between," said En Ma, a professor of materials science and engineering, and a co-author of the PNAS paper. "By having a wide range of resistance, you can have a lot more control. If you have multiple states, you can store a lot more data."
SOURCE http://www.pcworld.com/
U.S. Lags in Internet Connectivity Speeds
Akamai's "The State of the Internet" survey reveals that the rest of the world is speeding past the United States in Internet connectivity.
Akamai, one of the companies that can actually pull off a survey like this, has released its quarterly "
The State of the Internet
" report that outlines the relative speeds and penetrations of Internet connectivity in the U.S. and around the world.
It lists today's poor performers, which are actually stunningly fast by the standards of the Internet a decade ago when everyone was struggling. Many of us can recall the days of the fractional T-1. These megabit-per-second shared lines were considered the Rolls-Royce of connectivity.
The 600-page report delves into everything from IPv6 adoption to sources of Internet attack traffic. For anyone who follows the news, there are few revelations except for the fact that apparently Washington, D.C. has the worst Internet overall speeds of any place in the country. This also happens to be where the FCC lives and where Congressional hearings discuss topics like Internet speed and connectivity. It's all too hilarious.
After D.C., the worst states in the U.S., as far as overall Internet speed is concerned, are: Missouri, Georgia, Alaska, Illinois, Iowa, Colorado, Ohio, and Texas.
Korea leads the world with a 17.5 Mbps average. Japan and Hong Kong are next, with 9.1 Mbps. The U.S. is number 13 on the list after Holland, Latvia, Switzerland, Czech Republic, and Romania. We average 5.8 Mbps. The average connection speed globally is 2.3 Mbps. This is humiliating, but the U.S. has not even been in the top 10 for more than a decade.
Number one city in the world is Taegu, South Korea with an average connection speed of 21.8 Mbps. The top six cities were all in Korea and the next eight were in Japan. An American city, Boston, finally makes the list at number 51 with 8.4 Mbps followed by North Bergen, New Jersey at number 52. Jersey City, New Jersey comes in number 58.
Curiosities, as far as I'm concerned, were Monterey Park, California at number 59 with 8.2 Mbps and Manchester, New Hampshire at number 68 with 7.8 Mbps.

It proves that, if you do some research, you can find some hotspots around the world where you can do business at high speed. At that point, you have to be concerned with uptime and backup connectivity. Places like New Caledonia, in the southwest Pacific Ocean, are highlighted for their initiatives such as soon-to-be implemented fiber to the home. Nobody even talks about fiber to the home in California anymore, at least since the housing market collapse.
The report is peppered with enticing snippets, too, such as these cocktail party facts:
"Fully one quarter of Moroccan households boast a broadband connection - up from just two percent in 2004."
"Argentina has one of the most developed broadband markets in Latin America, with some of the fastest and least expensive plans on offer."
"Romania is one of the leading countries in the world in terms of high speed internet access in larger cities, but fixed broadband internet penetration is still low in Romanian regions and rural areas."
There is a lot to be learned from reports like these, but the main lesson is that the world is moving fast on Internet technology and we need to be a leader, not a follower. This means everyone in Washington, D.C. should look over this data carefully—assuming, of course, they can actually manage to download it with their slow connections.

SOURCE http://www.pcmag.com
Labels: Research